A new piece of equipment which is set to be instrumental in the fight against cancer has been installed at Castle Hill Hospital, part of Hull University Teaching Hospitals NHS Trust.
The Trust's Radiotherapy Team are now using the Varian Halcyon linear accelerator, or linac, technology.
The Trust was the first in the north and only the second department in the country to begin using the machine, paid for through the national Radiotherapy Modernisation Fund.
Now the Halcyon, which is both faster and quieter than its counterparts, is providing a better all-round experience for both patients and staff.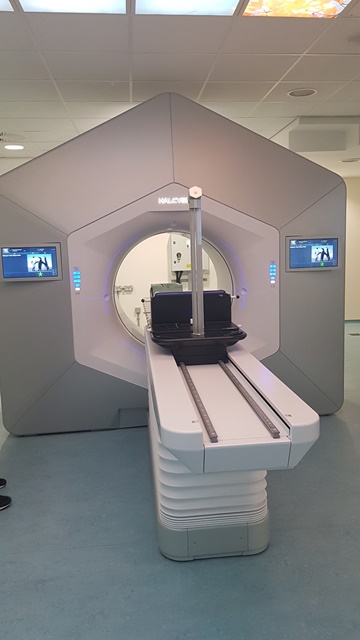 Clare Hutton, Macmillan Radiotherapy Manager at the Queen's Centre for Oncology & Haematology says:
"We've been very lucky here in Hull to be among the first centres in the country to begin using the Halcyon to treat prostate and colorectal cancers.
"Compared to other machines, it's much quieter and generates much higher quality images; this is important as it enables us to verify the patient's treatment quicker for the radiotherapy beam to be directed at the cancer more accurately, by millimetres, and so avoid healthy tissue.
"The Halcyon is also much faster than traditional linacs, meaning we can treat more people using one of the most advanced pieces of equipment available today and patients spend less time in hospital."
The trust's Radiotherapy Team collectively delivers treatment for approximately 170 patients every week from across East Yorkshire and Northern Lincolnshire.
Peter Colley, consultant physicist says, "Setting up and commissioning the new machine has been a real buzz for the Radiotherapy Physics team as they were excited to take the machine into clinical operation to benefit our patients."
The official opening on the afternoon of Friday 11 October marked the culmination of months of hard work, as well as input from patients who have received the first courses of treatment, to allow staff to tailor and deliver the best possible experience.
Clare continues "The Halcyon certainly delivers an improved patient experience. The design is much more like a CT scanner, and usually at this stage of their treatment, most patients are already familiar and comfortable with CT scanners.
"The Halcyon is also better for the patient because the bed begins to lower as soon as the treatment is finished, meaning less time lying on the bed. In fact, the Halcyon treatment bed lowers all the way to the floor, which is much better for less mobile patients and means less repeated bending and lifting for our therapeutic radiographers too."